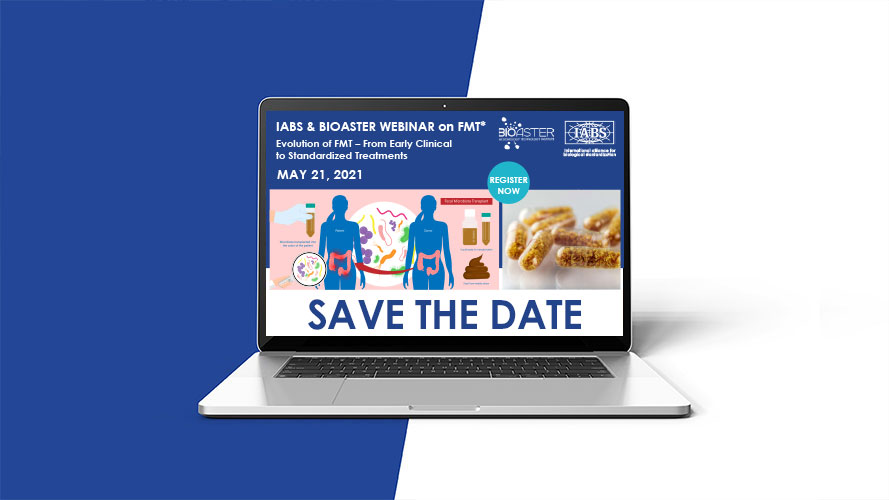 IABS & BIOASTER Webinar on FMT*
Faecal microbiota transplantation (FMT) is widely reported to be an effective treatment against recurrent Clostridium difficile infections. Recent clinical evidences support the therapeutic use of FMT for several other pathologies including inflammatory bowel disease, cancer and other functional or metabolic disorders.
Initial guidelines are now available to overcome some of the technical and logistical issues in establishing a non-standardised treatment into clinical practice with proper safety and governance.
Along with recent clinical successes of FMT, the webinar aims to provide a multi-disciplinary perspective of ongoing efforts to develop FMT guidelines including technical, regulatory, and standardization requirements.
Recognized experts will give insights into state-of-the art approaches and standards developed by international organizations and institutions.
Speakers :
– Prof. Harry Sokol, St. Antoine Hospital, Paris
– Dr. Chrysi Sergaki, PhD Sergaki, NIBSC
– Mr. Herve Affagard, MBA, Eng., Maat Pharma
– Dr. Vincent Thomas, Bioaster

Panelists include speakers and :

– Dr. Jennifer Wargo, MD Anderson Cancer Center
– Dr. Gary Wu, University of Pennsylvania